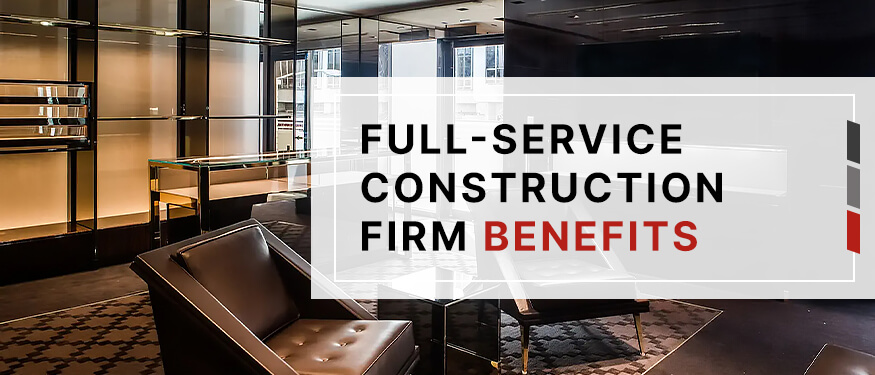 When you have a big project coming up, construction can seem daunting. There are a lot of moving parts, and you need to ensure each step is accomplished with expert oversight to produce quality results. One of the best ways to do that is to work with a full-service construction company. When you partner with this kind of firm, you can enjoy one point of contact and wide-reaching services from start to finish. We'll take care of everything from concept design to quality control and final walk-throughs.
Here at Alta Construction, our partners enjoy these benefits when working with our skilled team, all while experiencing full transparency throughout the process via modern software technologies.
The Benefits of Full-Service Construction Firms
Full-service contracting includes start-to-finish, individualized care with an approach that's as hands-off or hands-on as you want it to be. Some of the benefits are as follows:
1. Greater Control
All the work conducted on a full-service contracting job is overseen by a centralized contractor or team. With a singular point of authority for the project, contractors are in a much better position to coordinate work according to the needs of the project. They can keep everyone reined in and on the same page, providing greater control than the alternative of partnering with many different contractors for different jobs. A full-service contractor can also make sure all the work is properly aligned with project goals.
In many instances, full-service construction firms can provide as much or as little control as you want. Some organizations want to be involved in every step of the process, while others want to find a provider they trust and leave the nitty-gritty to them.
We aim to create partnerships with our clients and truly understand your goals and needs. Our team can guide you through the process from beginning to end and provide full transparency the whole time. You get regular updates and visibility tools, so you can always understand where we're at and play an active role in the construction process.
2. Better Communication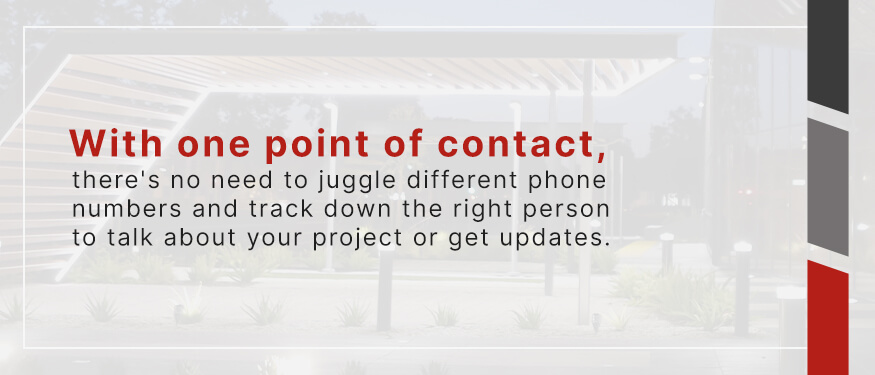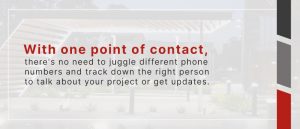 With one point of contact, there's no need to juggle different phone numbers and track down the right person to talk about your project or get updates. A full-service contractor is your go-to source for these needs and allows you to maintain strong communication throughout the project. It's much easier to communicate with one overseeing party.
A significant component of good communication is the use of modern technologies that enable informed planning, documentation and discussion. Our team at Alta Construction uses advanced software with each of our projects and partners. Some of the programs that help us improve communication include:
Raken: Raken is a valuable piece of daily reporting software that keeps everyone in the loop. We can collect photos and other details every day and share them with partners and team members alike. It also provides secure documentation in the cloud.
Procore: Procore offers a communication hub for everyone involved in the project to manage tasks, schedules, punch lists, photos and documents.
BuildingConnected: For the preconstruction phase, BuildingConnected makes management, planning and budgeting much simpler. It allows us to keep you informed and make data-driven decisions.
Our dynamic team uses these programs to great effect for the delivery of cutting-edge solutions. You'll stay informed the entire time.
3. Saved Time and Money
When a team of experts is working on the entire timeline of the project, they can deliver extensive cost and labor savings. These may come through well-aligned materials sourcing and reduced logistics needs. Project management is a primary focus of full-service construction businesses, and we've put considerable effort into making things efficient and imparting the utmost quality to a project. Everyone working on the project gets access to the same timeline and budget and progress monitoring tools.
Overall, strong project management creates a more efficient process for you, so you don't have to spend time on the details, and for the construction team, which is made up of people who are all on the same page and know precisely what's going on. Plus, a full-service construction firm's experience means they're likely to know the best ways to avoid hidden costs and push through setbacks to finish the project on time and on budget. Another bonus? They likely have access to bulk material purchasing and competitive subcontractor bidding that can bring down the price.
An experienced contractor and good communication can also reduce the chance of errors that would require costly fixes. Since your project is developed with the input and needs of your team front and center, you know your contractor is working to reach the same goal as you.
4. Expertise
A full-service construction firm has experts across many different parts of a project, offering years of experience to build your structure quickly, efficiently and with all the industry knowledge necessary. Full-service contracting teams understand the entire process through and through because they do it every day, and they know how to handle projects of any size. They probably have strong relationships with trusted subcontractors and suppliers in your area, too.
You can expect to work with people who know plenty tricks of the trade and can keep the project on track. These contractors are also knowledgeable on local codes and building requirements. A full-service contractor can provide licensed and insured services, so you know they are backed by state-approved agencies and have high safety standards.
Here at Alta Construction, we have experience in many different areas and can provide construction for more specialized industries, like big box and high-end retail locations, gyms and fitness centers, cannabis dispensaries and commercial offices. We're licensed in multiple states and can serve a variety of industries. Our skilled team members handle everything with care and put their years of experience to work on your project.
Working With Alta Construction
Alta Construction is your one-stop shop for construction services, regardless of the size of your project. Our goal is to create a transparent partnership and work alongside our clients to deliver a simplified construction experience. We use advanced software and an expert team to make start-to-finish construction easy on our partners.
Experience the ease and peace of mind that comes from working with Alta Construction. Learn more about the benefits of our full-service construction firm by reaching out to a knowledgeable team member today.