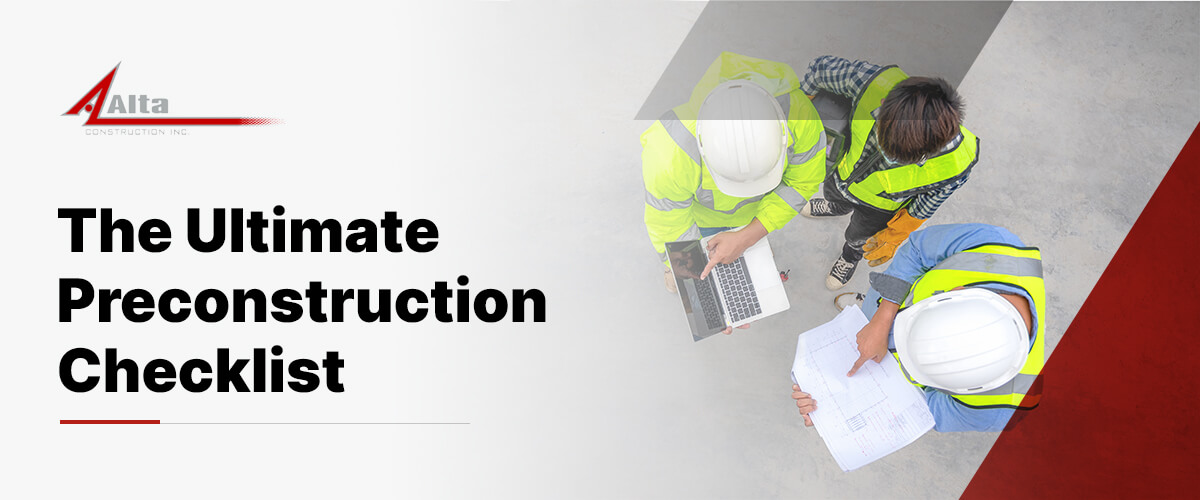 Before you launch a client's commercial or retail project, there are a few decisions to make and construction phases to plan. Preconstruction for commercial space renovation is the process of planning a construction project before formally getting started. Preconstruction includes everything from understanding your client's needs to investigating the location and determining your capabilities.
Construction companies and architects must complete all of these preconstruction stages to ensure the best possible outcome for their project. We've compiled the ultimate preconstruction checklist to help you ensure you've checked every box. Let's get started.
1. Survey Existing Conditions
Before you can begin any construction project, it's vital to understand your client's needs. After you've communicated about their expectations for their retail or commercial space, you can determine the project's scope and feasibility. Part of this process is surveying the location's existing status with your project team to decide what you will need to accomplish to turn the client's requests into reality.
You may need to personally inspect the space or existing structure to understand the modifications to make. Then you can decide how to achieve the client's vision. Conducting a physical survey will help you determine what steps to take for the project. However, it's also helpful to see the building layout without being on the job site.
An advanced construction technology tool can help you visualize your space in three dimensions. At Alta Construction, we use Matterport for construction in our building information modeling (BIM) processes to generate 3D building models. Matterport uses artificial intelligence (AI) that constructs a virtual space you can share and collaborate on with your team. When you use Matterport to facilitate your design, you can also monitor site conditions and effectively manage maintenance.
2. Determine Construction Budgeting
One of the essential preconstruction stages is deciding on your project budget. Estimating the project's cost ensures that your client can afford the modifications the architect and engineers would make. Preconstruction budgeting is also critical to ensure your project avoids unnecessary expenses and potential delays. Planning a budget for construction costs also helps you prioritize phases and create a schedule.
Contractors and other planners involved in the construction process must consider several costs when designing a budget. These expenses include:
Administrative costs: This category of expenses includes the price of permitting and engineering work.
Labor: You'll need to include payment for your construction crew from project start to finish.
Materials: In this section of your budget, include everything from building supplies to construction and safety equipment.
Site preparation: From demolition to debris disposal, you might need to do some work to start construction with a clean slate.
At Alta Construction, we utilize the easy-to-use BuildingConnected software to plan and budget projects at every construction phase and stage. BuildingConnected enables efficient preconstruction planning and keeps stakeholders informed about updates. The software also allows you to make data-driven budgeting decisions.
3. Secure City Permits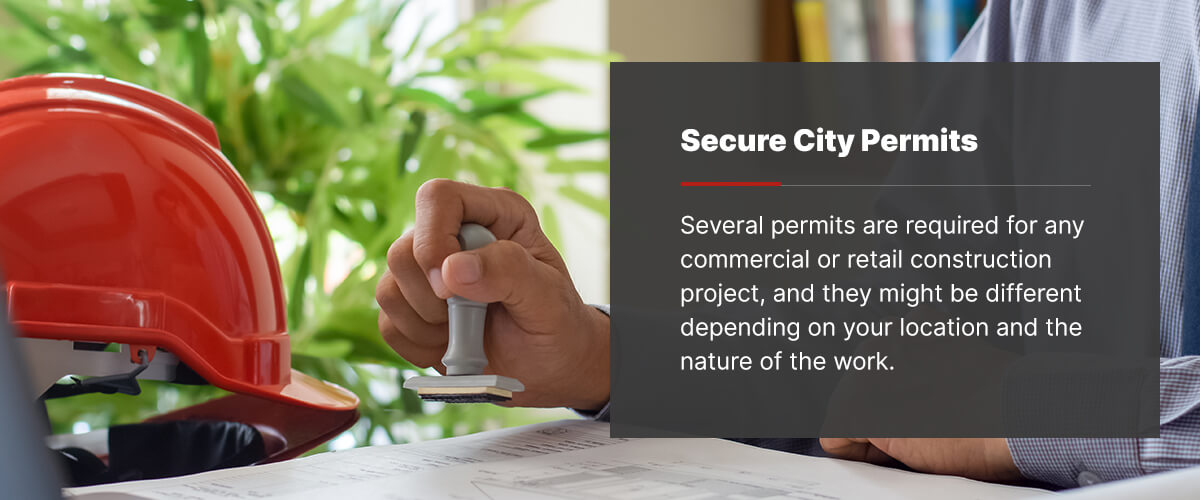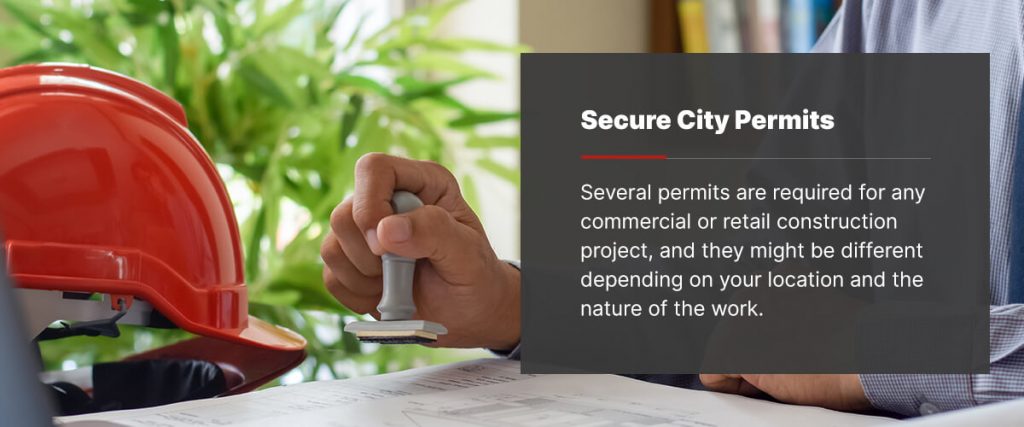 The next step in preconstruction for commercial space renovation is to identify and acquire the necessary construction permits. Several permits are required for any commercial or retail construction project, and they might be different depending on your location and the nature of the work. This stage should be completed during preconstruction because it could take a while and otherwise derail the project schedule.
Every city and community has different commercial building requirements, and some may demand more detail than others. Here are a few standard city permit requirements you may need to acquire:
Local site plan review
State plan reviews
Local building permits
Department of Natural Resources permitting
Licensing for certain industries
You'll first need to contact your local permit office and acquire the necessary permitting applications to start the process. Once you've turned those in, you can pay your licensing fees and get to work.
4. Follow Landlord Rules and Regulations
Much of the time, rented commercial spaces need some improvements before businesses can move in. Each tenant has unique structural and design needs, from brand-specific design elements to customized floor plans. However, landlords also have rules about what customized alterations a construction team can make. If you'll be making tenant improvements in a commercial or retail space, following the landlord's specific requirements is essential. Common tenant improvement projects include:
Adding or moving walls and windows.
Building decorative features.
Replacing tile or carpeting.
Updating electrical wiring and plumbing.
Installing built-in fixtures like shelves.
Painting walls and moldings.
Any improvements you perform must stay within the boundaries of the tenant's lease agreement and strictly adhere to the landlord's rules. Accommodating these regulations can sometimes be a challenge. Here are a few essential tips to help tenant improvement construction projects go smoothly and according to the landlord's wishes:
Communicate effectively: Creating a satisfactory and efficient space that suits the tenant's needs while adhering to the lease agreement can be a juggling act. Incorporate advanced project management technologies into the process to keep communication open. With construction technology solutions like Raken and Procore, you can report project status daily and communicate necessary details with your project management team and your client.
Work with your space: It's essential to plan your improvements around the area already available. The tenant's lease agreement and current dimensions of the space might limit your options, but you can still maximize the location. To turn expectations into reality, consider working with a design-build construction company with a project manager that can help you manage the entire project.
Balance wants and needs: You likely already have requirements for your tenant improvement project. However, you may have to be flexible with features that your client doesn't absolutely need to stay on budget while completing your project successfully.
5. Make a Preliminary Schedule
The final step in the commercial or retail preconstruction process is to make a preliminary schedule. It's essential to understand the duration of each phase in the construction project and material lead times before getting started. A detailed schedule helps prevent unnecessary waiting during the process.
Creating and sticking to a construction schedule is a complicated task, but one that is necessary for your retail or commercial pre-construction checklist. Consider these scheduling strategies for finishing your construction project on time:
Utilize technology: Construction software like Bluebeam keeps everyone on your team in the loop and ensures potential problems are caught early. We use Bluebeam at Alta Construction to update the entire project team every step of the way.
Plan in advance: Giving yourself plenty of time to plan helps keep construction on track once you officially begin work. Select and order all of your materials and supplies ahead of time to avoid delays.
Enlist help from a full-service construction company: Partnering with a construction firm can make project management easier. These professionals will oversee each phase of the project and ensure tasks are completed on time. A full-service construction firm can also keep everyone on the same page to move the job forward efficiently.