Matterport Pro3 3D Camera
Earlier this month, Matterport unveiled the new Matterport Pro3 3D camera for digital twin modeling. This construction camera can capture 3D digital copies of a physical indoor or outdoor space to create its "digital twin" on the cloud platform. As Matterport's most advanced modeling device, this camera can capture high-quality, detailed images of the space to create an immersive digital recreation of reality.
Learn more about the new 3D Matterport Pro3 camera and how it can benefit your construction projects and clients.
New Matterport Camera Features
The advanced features of the new Matterport Pro camera include:
3D data capture up to 100 meters away with less than 20 seconds per sweep for faster scanning.
20MP sensor with a 12-element lens for ultra-wide angles and realistic digital twins.
Lidar to take millions of measurements in any conditions, including outdoors.
An advanced cloud processing platform for accurate and detailed digital twins.
The Matterport Pro3 3D Camera has several improvements over its predecessor, the Pro2 Camera, including:
Higher capture limit: Where the Pro2 had a capture limit of 50,000 polygons, the Pro3 system can
exceed 1 million polygons.
Farther range: This expanded technology uses a Cortex AI engine. The Pro3 can capture five times
the range as the Pro2, so it can fully capture details, reflective surfaces, foliage, challenging lighting and more.
Smaller dimensions and weight: The new 3D camera is 30% smaller and 35% lighter than the Pro2. It
weighs 4.9 pounds and measures 7.13 inches by 6.35 inches by 3 inches.
Benefits of the Matterport Pro for the Construction Industry
Construction companies using Matterport cameras can offer several benefits. AI technology makes it easier to get a 3D model of construction projects. The cameras also allow you to take a virtual tour of the space to better understand the structure and see logical and design challenges that require correction.
Your clients will benefit from the collaborative aspect of construction cameras. Instead of traveling to the location,
stakeholders can view the digital twin online to see what the structure will look like. They can share their input
right away, which makes the building process faster.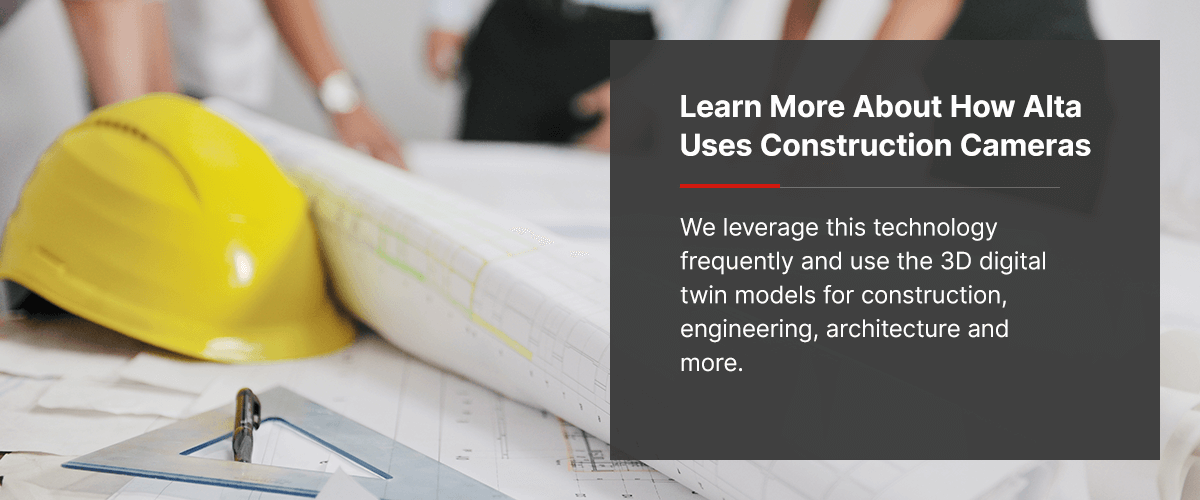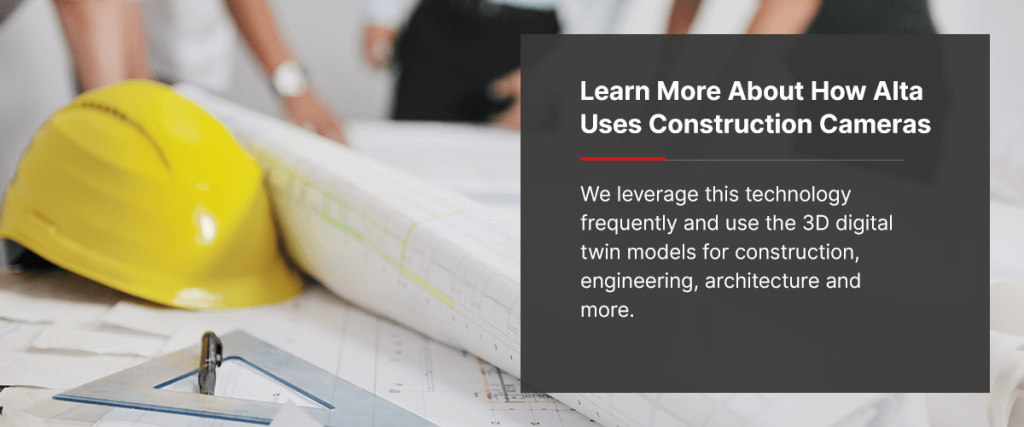 Learn More About How Alta Uses Construction Cameras
Alta Construction uses Matterport technology in several of our services, so working with us for your preconstruction and construction projects means gaining the advantages of 3D cameras. We leverage this technology frequently and use the 3D digital twin models for construction, engineering, architecture and more.
Read more about how Alta uses Matterport for our projects, or contact us for more information.