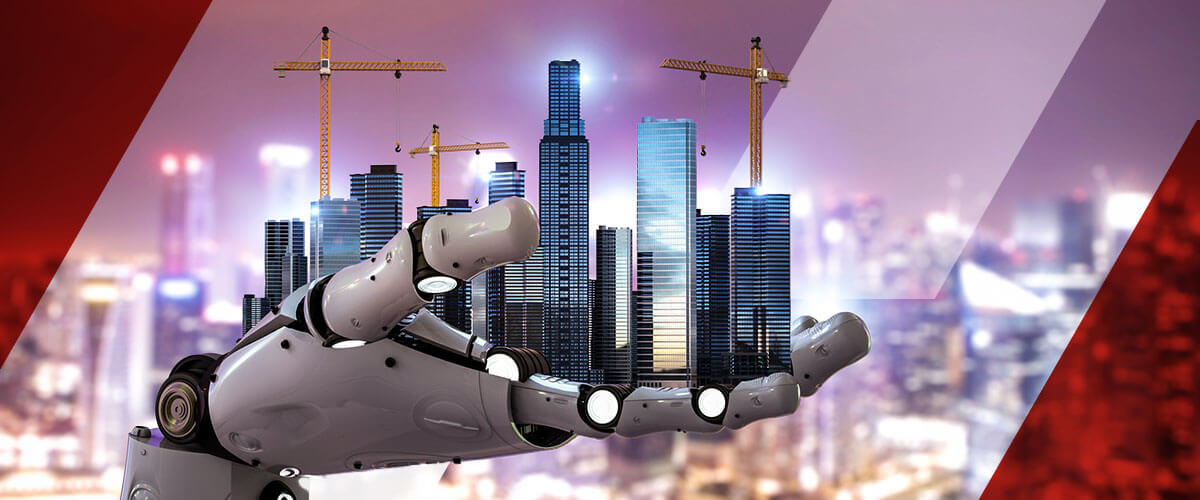 The construction industry isn't the trendiest or highest-tech field, but companies are increasingly bringing their work into the 21st century. From intelligent software to sensors and drones, the digital world has a significant place in construction. These tools can help improve project quality and collaboration and reduce costs and time to completion. Other trends guiding the industry forward include the need for eco-friendly building practices and solutions that maximize robust data collection.
Let's take a look at some of the leading trends in construction in 2023 and what they're bringing to the industry.
1. Artificial Intelligence
Artificial intelligence continues to be a powerful force in the construction industry. AI's most prominent use is in automating tasks that humans would ordinarily do. It essentially brings the unique ways humans think into computerized processes. Its applications in construction software offer benefits like cost estimations and improved safety and efficiency on the job site. This kind of processing power can help streamline time-consuming processes and reduce labor demands, helping construction companies save on these overhead costs.
One of our favorite ways to use AI is with Matterport, our powerful tool for scanning structures and creating virtual models. It uses scans — like those taken with 3D cameras, 360-degree cameras, LiDAR cameras or your typical smartphone cameras — and intelligently stitches them together to construct a digital version of the structure. These digital twins are valuable tools, allowing designers, contractors, facility managers and future inhabitants to see the space in a new way. They can significantly improve collaboration, visualization and efficiency.
Other uses for AI include forecasting material demands for just-in-time ordering, generating schedules with real-time data and proactively reducing costs by watching for issues with supply chains, pricing and delivery. Many of these tools also integrate easily with other popular construction platforms, such as AutoCAD, Revit and other business information modeling solutions.
2. Green Building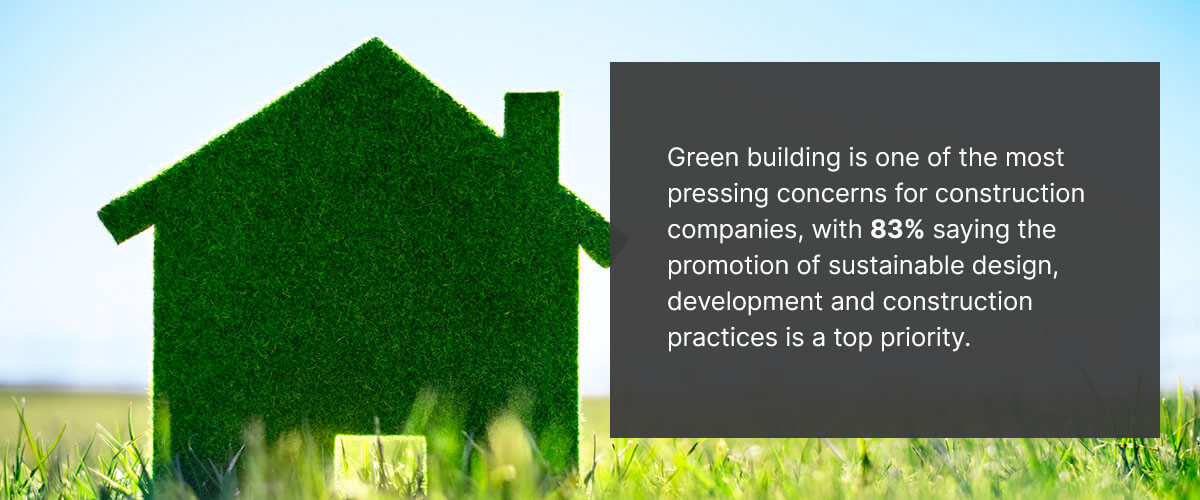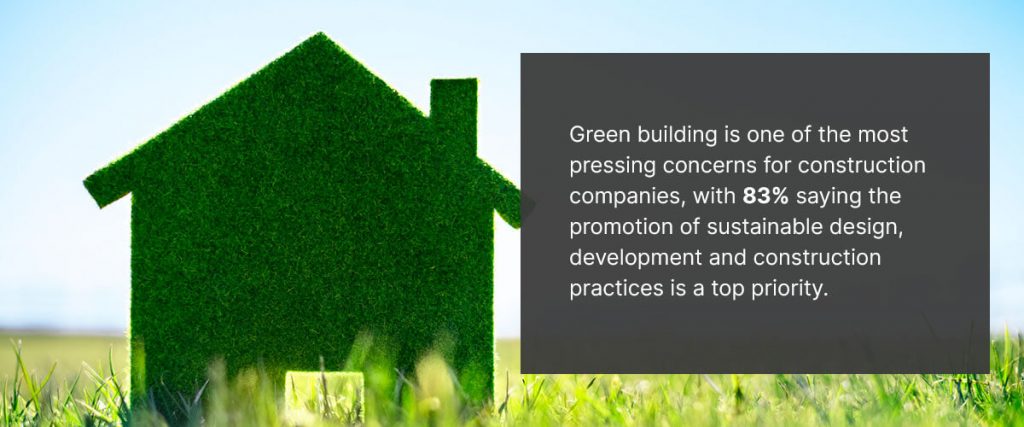 The construction industry is well on its way to supporting a more sustainable world. Green building is one of the most pressing concerns for construction companies, with 83% saying the promotion of sustainable design, development and construction practices is a top priority. Green building can refer to construction practices, like low-emissions processes and reduced waste, as well as the buildings themselves, which might include recycled building materials or have energy-efficient designs.
Of course, green building is excellent for our planet, but it's also a win-win for the industry. Many clients demand sustainable solutions, and environmentally friendly building can be a significant competitive advantage. Many green practices save money in other ways, too. For instance, choosing locally sourced materials minimizes shipping emissions and offers supply chain resiliency by eliminating import hassles and delays.
Digital technologies will play a leading role in the future of sustainable building. They can bring different stakeholders together and provide the visibility needed to make eco-friendly changes, like finding inefficient material use or gaps in the supply chain.
3. Internet of Things
The Internet of Things is exploding across industries, and construction is no exception. IoT refers to the devices and technologies that connect and communicate with each other, such as sensors, software and alarms. We see IoT in construction in many different ways.
Health and safety: IoT devices might monitor a worker's vital signs and watch for symptoms of heat stress, fatigue or injury. They can record sound levels and send an alert when the worker needs to put on protective equipment. IoT could also help locate workers for incident responses and send alerts to a worker and their supervisor if the worker approaches a hazardous or restricted area.
Site monitoring: Sensors and monitors across the job site can monitor assets and help you find insights about equipment use, employee activities and more. IoT tools might measure humidity and temperature to predict risks, see how equipment is moving and track your store of supplies.
Equipment assessments: Smart machinery can also track how workers are operating equipment, monitor fuel consumption and watch for early signs of damage such as heavy vibration. These analyses can help maximize equipment life and performance and improve safety overall.
By bringing these types of information under one centralized umbrella, IoT can improve visibility and usher in a more efficient, safer construction environment.
4. Remote Management
In many cases, modern technology has made on-site work entirely optional. Thanks to equipment like 3D models, IoT devices and drones, everyone involved in a project can come together from anywhere. Construction software is highly capable, with options like these.
BlueBeam: BlueBeam is another program we use at Alta. It allows different team members — like architects, engineers and contractors — to work in the same space via the cloud. It gives us a wide range of tools for markup, design, punch items, review processes, proposals and more.
Remote management is fantastic for improving efficiency, visibility and collaboration. Some advanced technologies, like drones and autonomous robots, can even get us closer to remote worksites. Minimizing on-site needs can improve safety and productivity while helping construction companies hire more flexibly. Skilled candidates may not need to relocate to the job site, while the company can limit the expenses and frustrations of travel.
5. Building Information Modeling
One of the most noteworthy trends in construction technology is BIM. It has become a vital tool for many construction companies, helping them plan in new ways. With BIM, a build team can create a detailed virtual model and thoroughly study every detail of the project before breaking ground. It's a resource for planning and design stages and allows the team to identify potential problems before they cause delays, reduce costs, provide visualization to clients, improve facilities management and keep track of real-world progress in the digital building.
A construction business that uses BIM can streamline work processes, minimize errors and maximize profits with a powerful, centralized tool.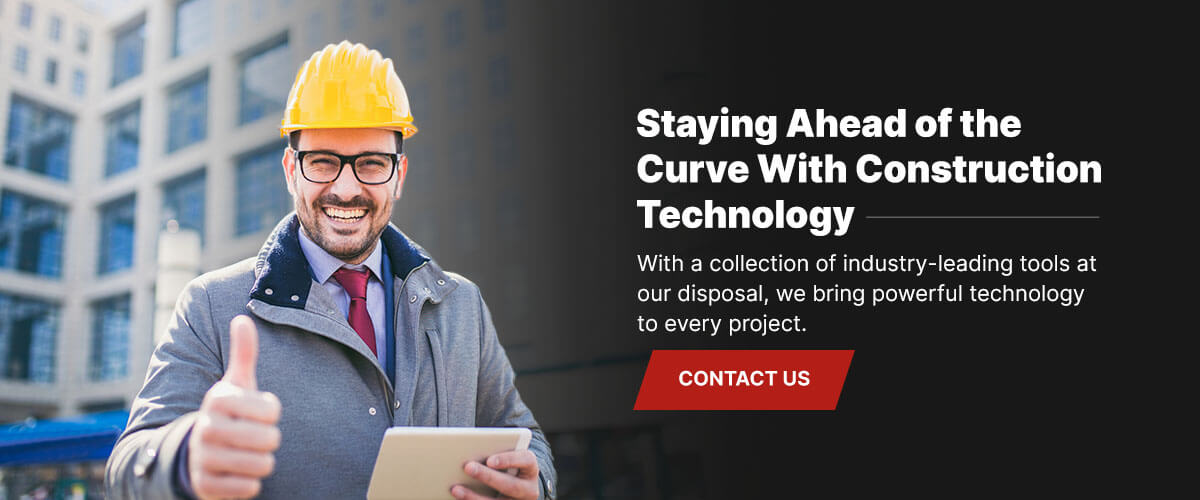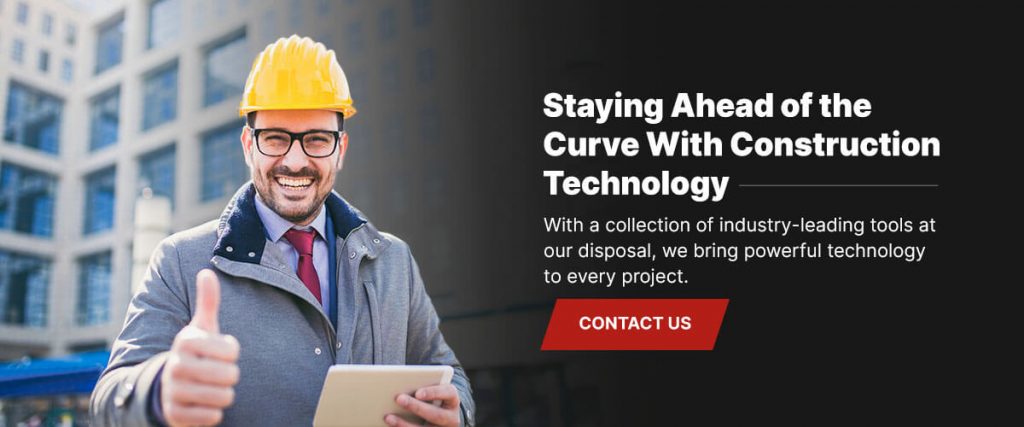 Staying Ahead of the Curve With Construction Technology
The construction industry does not necessarily have a reputation for keeping up with the latest technology. At Alta, we take a different approach. With a collection of industry-leading tools at our disposal, we bring powerful technology to every project. It helps us work quickly, save on costs, improve quality and collaborate with our clients and other project stakeholders in a way traditional companies can't match.
We're a certified minority business enterprise with licenses across the United States. To see how we can help bring your next project to life with some of these construction industry trends, please reach out to us today!