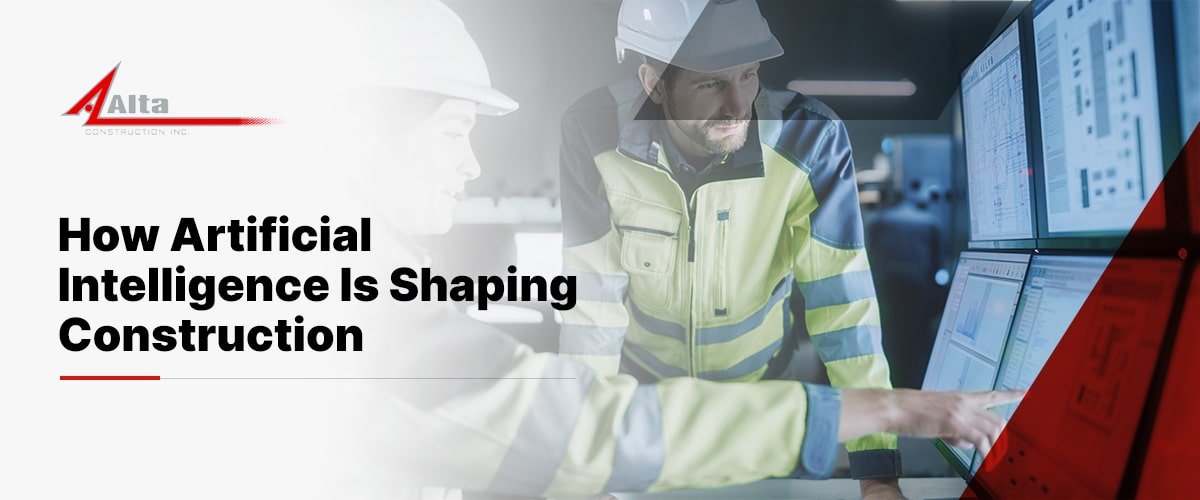 The use of artificial intelligence (AI) is rapidly expanding throughout the construction industry. Its growth is so exponential that by 2030, experts believe the market will reach over $2.51 billion. Construction companies utilize AI for various tasks like estimating a project's cost and improving job site safety. This technology can streamline building operations and transform how construction businesses approach new projects.
Learn more about how artificial intelligence is changing the construction industry and how introducing this tech can benefit projects and stakeholders alike.
Benefits of AI for Construction
Construction software can enhance nearly every aspect of your project lifecycles, from start to finish. Here are some of the key benefits of introducing AI to construction:
Streamlining Projects
Artificial intelligence can help you manage your projects more effectively. AI tools can support better project planning by taking care of repetitive tasks such as bidding and asset management. This allows project managers and workers to focus on other essential responsibilities.
AI technology like BuildingConnected also utilizes data to forecast your company's needs and help your team order the correct quantity of materials at the right times, reducing downtime and keeping your operations efficient.
Increasing Labor Productivity
In addition to making projects more manageable, AI can also boost labor productivity. Artificial intelligence improves schedule management by accurately predicting task duration using real-time data and insights. This technology optimizes individual tasks and collects information to then optimize the master schedule and ultimately reduce project time and costs. Traditional scheduling can be inefficient and doesn't use real-time data to make informed decisions.
Reducing Cost Overruns
More than 85% of construction projects go over budget. Using artificial intelligence helps businesses have better budget management because it analyzes the costs associated with past projects and accounts for the increases in the following factors:
Materials
Labor
Project scope
AI helps companies avoid budget challenges caused by things like supply chain issues or inflation by delivering more accurate pricing.
Forecasting Maintenance
One of the greatest benefits of AI for the construction industry is its forecasting capabilities, especially for equipment maintenance. Machine learning makes it possible to forecast potential issues using historical data and pattern recognition.
Companies typically use scheduled maintenance to service their equipment regularly. AI makes it possible to use sensors and performance data to determine predictive maintenance. This allows companies to stay on top of their fleet, minimize inefficiencies and avoid having to replace expensive equipment.
Combatting Labor Shortages and Supply Chain Issues
Labor shortages have been plaguing the construction industry for the last few years. In fact, reports state that the industry will require more than two million workers over the next three years to keep up with demand. And to make matters more complicated, global supply chain issues continue to cause delays for builders.
Artificial intelligence can automate some of the responsibilities that once belonged to workers, reducing the number of employees needed to complete a project. It can also help construction companies combat supply chain hold-ups using monitoring and accurate predictions.
The Impacts of AI in Construction
Artificial intelligence is shaping and improving multiple aspects of the construction industry. We're sharing some of the most significant impacts this technology is having on building projects.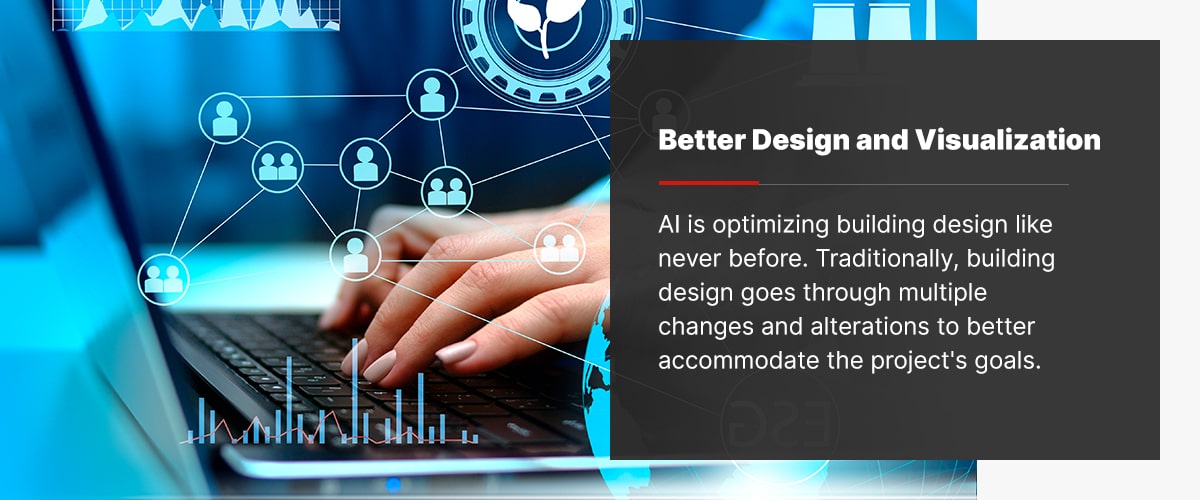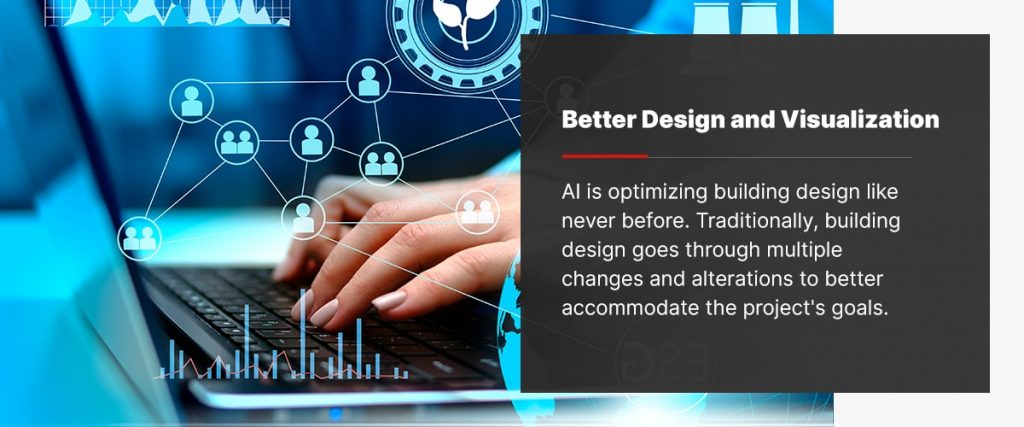 Better Design and Visualization
AI is optimizing building design like never before. Traditionally, building design goes through multiple changes and alterations to better accommodate the project's goals. Machine learning can optimize this process by utilizing historical data from previous jobs to find the best solutions for the following:
Costs
Aesthetics
Energy efficiency
Correcting design flaws
With artificial intelligence, architects and designers can address potential design changes very early in the building process when there is less at stake. Having three-dimensional visualizations of the design plans allows your team to perform a complete walkthrough of the project and identify any faults they may have overlooked with traditional design planning.
Thorough Job Site Viewing
AI technology such as Matterport for construction makes it possible for designers to utilize a 3D digital twin model of a job site. These models can help your team spot logical challenges or design mistakes. Additionally, having access to this kind of thorough job site viewing makes collaboration much easier. Stakeholders no longer have to travel to get involved in the building process.
Construction companies can share these 3D models with anyone, including customers and investors. Having access to this type of technology allows for better facilities management and can improve the building process overall.
Boosted Safety and Security
With AI, construction businesses can enhance their safety and security measures. Using data collected from sensors and camera surveillance, this technology can accurately identify potential hazards and address them before they become major issues.
Having these insights on hand helps construction managers optimize the movement of equipment and people to reduce safety risks. AI helps improve the coordination of workers on the job site and flags any unsafe practices. In addition to helping maintain safer job sites and improving safety records, AI also gives businesses better security by analyzing constant surveillance footage.
Access to Post-Construction Insights
Even after the construction is over, building managers can make use of artificial intelligence with post-construction insights. In addition to using the data to optimize future projects, managers can continue to monitor completed projects year-over-year to ensure they are still in great shape. This technology can indicate when a building requires maintenance or is developing problems that need ongoing care or security improvements. With AI tech, construction companies can continuously enhance their building processes time after time.
Improved Job Site Productivity
Job site productivity is important because it impacts project budgets and schedules. AI can enhance productivity by closely monitoring workers and their processes. Ensuring everyone is on-task and following the set safety protocols help to minimize downtime and reduce costs.
AI can take over some of the repetitive tasks that workers traditionally had to perform, such as excavation work, making processes more streamlined and efficient. Automation reduces the time and labor it takes to complete a project.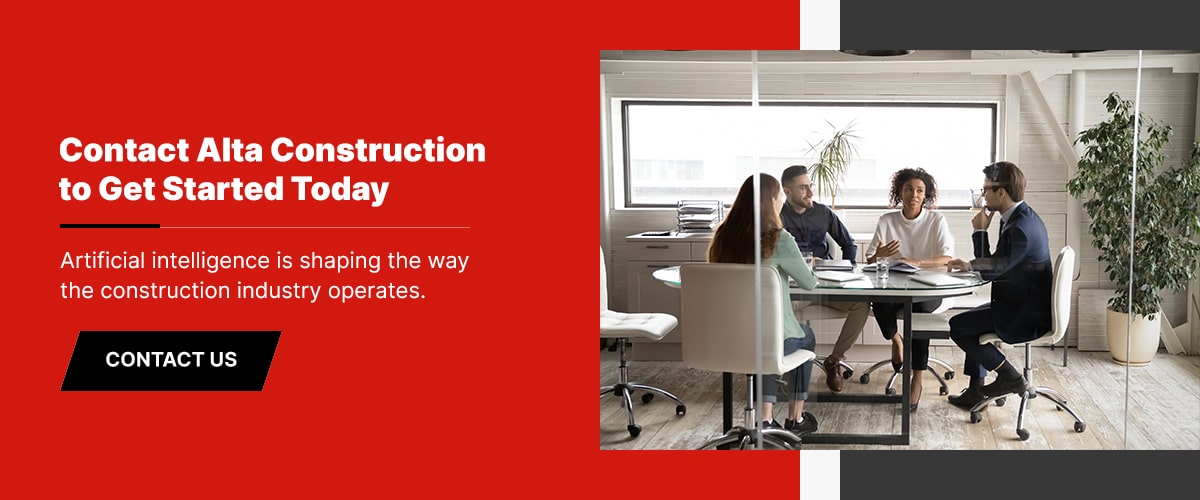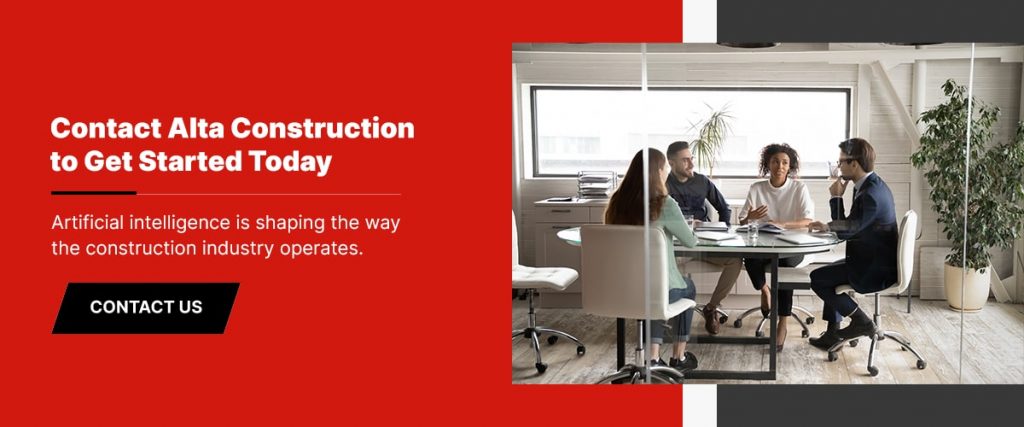 Contact Alta Construction to Get Started Today
Artificial intelligence is shaping the way the construction industry operates. At Alta Construction, we are a full-service commercial construction firm with industry-leading technology that allows us to deliver the best results. We know the value of transparent communication and providing an extraordinary customer experience, which is exactly what you get when you partner with us. Plus, our services are supported by advanced project management software programs that our customers have access to throughout their projects.
Are you interested in learning more about construction software from Alta Construction? Contact us to get started on your new project today!