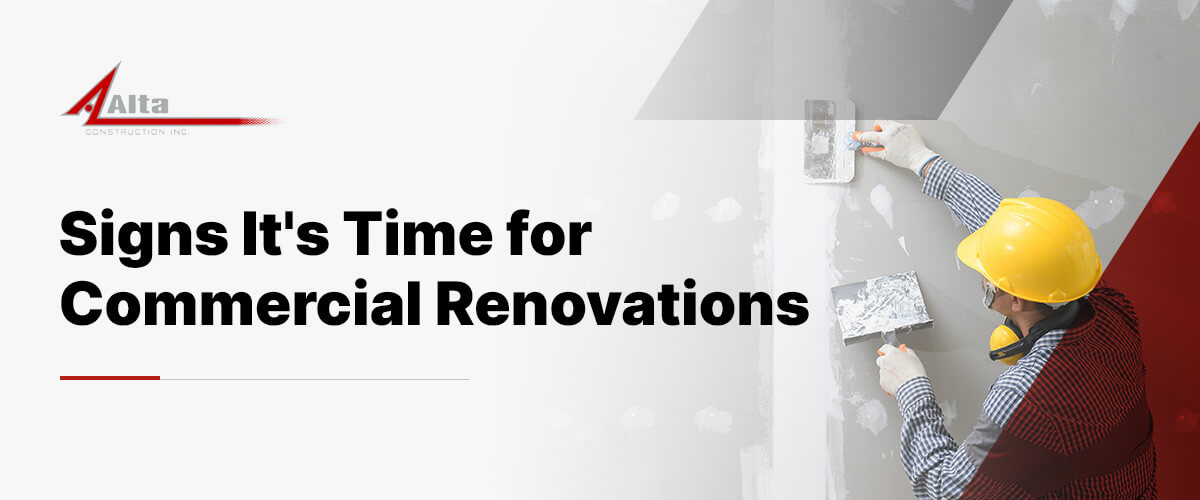 You know it's time to remodel your business space when it no longer meets your needs. If you need more storage space or more room for your staff, it's time to make some changes. Renovating your commercial space can bring new energy into your business, and there are many reasons to consider investing in some renovations.
6 Signs It's Time to Remodel Your Business
From giving your space an updated look to impressing new clients and retaining more employees, there are so many benefits that can come from a renovation. These are the signs that it's time for some renovations for functional, aesthetic or branding reasons, among others.
1. Your Office Design Needs Updating
First impressions are crucial in the business world. Your office space says a lot about your company and its values. If your business relies on impressing and attracting clients, an interior design shake is a worthwhile renovation. A well-designed and stylish workspace shows clients that you care about your employees, how you present yourself and your work. Utilize some of your renovation budgets for an interior design redo.
When updating your office space's design, you should prioritize some things. Replace fading wallpaper, remove wall and ceiling stains, redo damaged flooring and update your furniture. These renovations will invigorate your business and be noticeable to clients and employees. Landscaping, painting and adding new decorations are other simple ways of improving the aesthetic of your office space.
2. Your Company Is Growing
The best reason to renovate commercial space is expansion, whether you're adding a new department or want to take on new clients. Consider renovating your current commercial space instead of moving to a new premise. Adding more space can be more cost-effective than finding a new location. Optimizing your space through redesigns or adding to your building are the best renovations for expansion. Make room for more meetings, accommodate more employees and get the most out of your space with the right renovations.
Growing pains can slow a business down. Make sure you expand at the right time in the right ways to optimize your growth and performance. The best way to do that is to consult a professional. There is an art to making the most out of an office, and knowing when to expand is part of that. Construction design services help you find the most effective ways of adding to and improving your office space.
3. You're About to Rebrand
Commercial space renovations are often needed when a company is rebranding. Refreshing your brand's goals, culture, values and appearance can yield impressive results. Office spaces and designs may change drastically to suit a business's new brand identity.
The aesthetic of a business is as important as its logo and online presence — it is an extension of who the company is. That's why commercial spaces undergo many renovations when it's time to rebrand, whether they're a retail space welcoming customers or an office trying to motivate employees.
4. You Need to be More Energy Efficient
Utilities can be costly. This is particularly true in older buildings. Energy efficiency is the best way to reduce your utility costs significantly. Installing insulation, LED lights and skylights are some examples of energy-friendly renovations. You can advertise your eco-friendly operations and green innovations to clients and customers.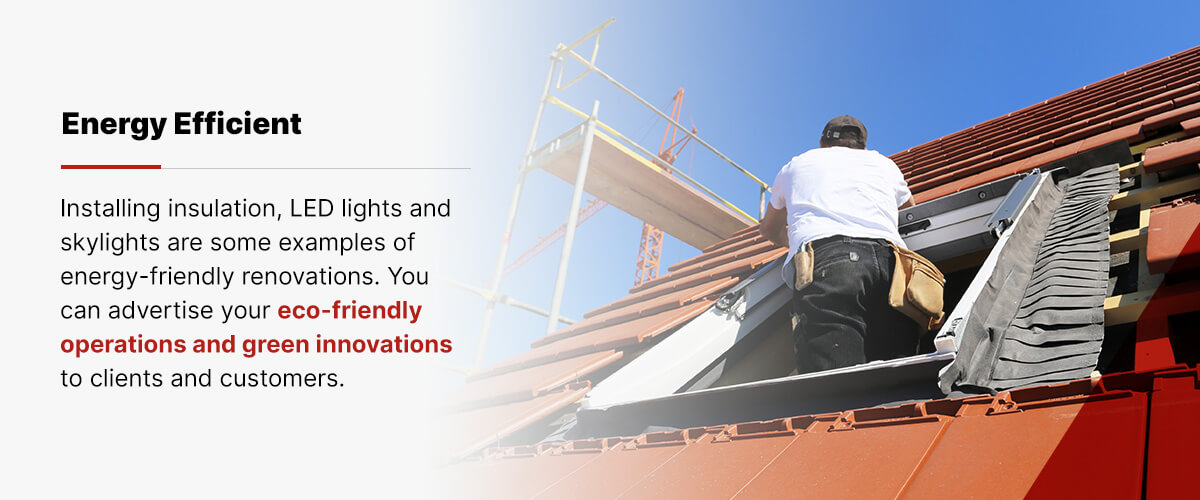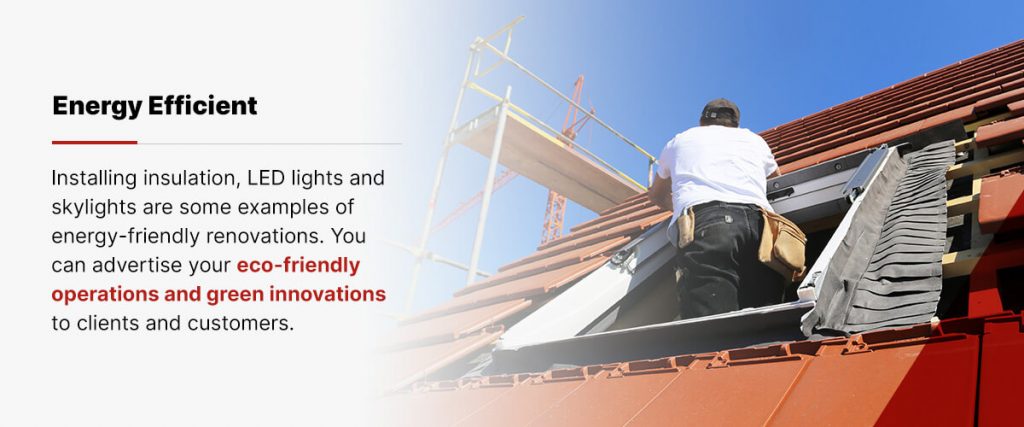 5. You Need New Additions and Amenities
Commercial business renovations are often done to provide new amenities or upgrade services. Restaurants may add drive-thru windows to provide more convenient service to customers. An auto repair business might add an extra bay so more cars can be worked on. Sometimes renovations are made for the sake of employees. Updating reception areas, kitchen spaces or break rooms is a pertinent example of this.
6. Your Employees Need More Comfort
Employee comfort correlates to employee satisfaction and higher-quality work output. Business remodeling needs to keep the employees' morale in mind at all times. Allowing space for break rooms, kitchen spaces and even nice bathrooms goes a long way toward employee motivation.
If your employee retention is low, consider renovating your commercial space. Leaking roofs, cramped spaces, dim lighting and drab colors can greatly hinder employee satisfaction. It can even drive away potential new hires. If you notice more staff leaving, a dip in productivity or a lack of morale, make some changes.
Remodel vs. Rebuilding
Renovation is a broad term covering anything from redesigning an office interior to building an extension. Remodeling and rebuilding are considered renovations. Remodels optimize and improve your current space. Rebuilding means significant structural change or rebuilding your space from scratch. When considering which option is best for your business, you should evaluate several factors.
When to Remodel Your Business
You should consider a remodel if:
Your space is still functional: If you are happy with your space's electrical and HVAC systems and other major building functions, it's best to remodel the space you have.
You have enough space: If there is enough space or land to expand and add new services, choose remodeling.
You have a set budget: Remodeling is more cost-effective than rebuilding. If the costs of a rebuild outweigh its advantages, a redesign is your best option.
When to Rebuild Your Business
The reasons to consider rebuilding include:
Your building is limiting your growth: If you are unable to modify your current space to suit your operations and technological needs, a rebuild is a good idea.
Your building is old: If your building is old or in constant need of repair, a ground-up rebuild could be worthwhile. Sometimes rebuilding is more cost-effective than major repairs.
You need to move: If you need more space or want to build a headquarters, a complete rebuild is the best way to achieve this.
Partner With Alta Construction for Expert Advice and Excellent Renovations
Construction and renovations are hands-on processes. Alta Construction is here to make your renovation decisions, management and execution as easy and professional as possible. Our construction services can help you fully optimize your commercial space or build a brand-new one. Our goal is to help you reach yours, and our high-quality offers and teams are at your service. Transform your commercial space into the perfect place for your business to flourish and grow.
At Alta Construction, we pride ourselves on providing the very best to our clients. From customer service to the impeccable quality of our jobs, we aim to make construction easy for you. Our expert team can guide you throughout the process with design choices, layout suggestions and any questions you might have. Contact us today to find out more.